Welcome to Antiochian Village!
Antiochian Village is a Christian conference and retreat center located on 300 acres in the beautiful Laurel Highlands of southwestern Pennsylvania, just six miles north of the historic town of Ligonier. Owned and operated by the Antiochian Orthodox Christian Archdiocese of North America, Antiochian Village was established in 1978 through the vision and leadership of the Archbishop, Metropolitan Philip, who dreamed of a place where the faithful of all ages could meet, worship, and become closer to God, away from the distractions of daily life.
"Thus, my friends, when you become weary, depressed, tired of life, empty, laden with heavy burdens, when you lose direction of life and communion with God, go to the mountain, to the Antiochian Village, and you will find rest."
— Metropolitan Philip, upon the founding of Antiochian Village in 1978
"Come ye, and let us go up to the mountain of the Lord, and He will teach us of His ways, and we will walk in His paths."
Isaiah 2:3
MEETINGS & EVENTS:
To Register for an upcoming Antiochian event with online registration:  Click Here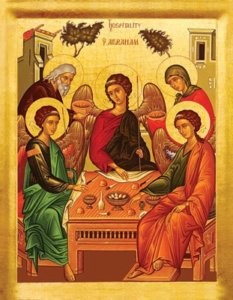 The Hospitality of Abraham
This icon depicts the scene in Genesis
18:1-15 when three angels—in the form of strangers—appear at Abraham and Sarah's home.  The couple treats the visitors with great reverence, welcoming them into their home and preparing a meal for them.
Antiochian Village Conference & Retreat Center is committed to changing the lives of people by providing true Christian hospitality in an Orthodox spiritual environment.
Google Map/Direction Link
How Can we Help Antiochian Village